Post by Thenodfather on Apr 16, 2008 5:25:05 GMT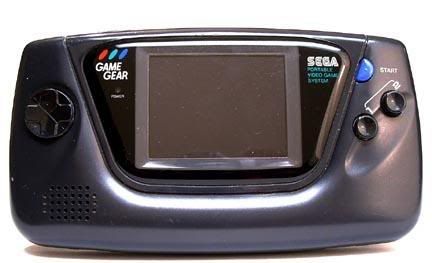 The Sega Game Gear hand held console, fourth generation that was released to rival Nintendo's Game Boy. It began life in 1989 under the codename Mercury after Sega's policy of naming their systems after planets.
It was released in Japan in October 1990 and in North America, Europe and Brazil in 1991 and in Australia in 1992 and retailed at $150.
The Sega Game Gear was essentially a portable Sega Master System with lower resolution but with a lager palette. An additional achievement over the Sega Master System was that it could produce stereo sound through headphones, but few games utilised this capability. An improvement in design over Nintendo's handheld was that rather the loner distance being from top to bottom it was from side to side so it gave you more room for your hands. And with it being the Sega Master System on the go many of the Sega Master systems titles were easily converted.
There were 300 titles released for the Sega Game Gear but only six were available at launch time, 266 of which can be viewed here:
en.wikipedia.org/wiki/List_of_Game_Gear_games
Sega made sure a wide range of video game genres were represented to give it's console to make sure it was give broad appeal. It's reckoned games ranged from $24:99 to $29:99 each and were moulded black plastic with a rounded front for easier removal. The original games packs were released with Columns, which was to the Game Gear what Tetris was to the Game Boy.
In an unusual move, (but ultimately one that would help sales), Sega decided not to region encode their games, meaning that if you had were in America and a game was A European Only release you could import the game and play it straight away no problems and nothing extra needed to do so.
Some of the problem for the Sega Game Gear were: 1) It didn't sell well in Japan due to poor construction quality which plagued it's early service life. 2) While in colour over the Game Boy's monochrome and it being better than earlier that other colour backlit systems it only ran for five hours on a set of six AA batteries. A rechargeable better pack was available separately. 3) The third problem was the price. It was $60 more expensive than Nintendo's Game Boy, $149:99 over the Game Boy's $89:99. This doing significant damage to attracting customers. 4) Another problem with the Game Gear was with Sega's condescending add campaigns where they regularly looked down their nose at their main competition making it out to be a lesser machine and Game Boy users less video game fans. 5) Sega's Game Gear did not get the backing for games from many of the key developers that Nintendo did and because of this, the Game Gear was perceived as lacking and although it was a moderate success it was ultimately not as much as a commercial success as Nintendo's handheld.
Some accessories available were a magnifier to help with viewing and when you wanted to talk a break from playing games, there was a turner available to allow you to watch television and if you were going on long journey's in the car, you could plug into the cigarette lighter to save the batteries.
Specifications:
Main processor: Zilog Z80 (8-bit)[3]
Processor speed: 3.58 MHz [3] (same as NTSC dot clock)
Resolution: 160 x 144 pixels
Colours available: 4,096[3]
Colours on screen: 32[3]
Maximum sprites: 64
Sprite size: 8x8 or 8x16
Screen size: 3.2 inches (81 mm)
Audio: 3 square wave generators, 1 noise generator, the system has a mono speaker, but stereo sound can be had via headphone input.
RAM: 8 KB
Video RAM: 16KB
Power:
Internal: 6 AA batteries [3]
External: 9V DC, 300mA, 3W[6]
Physical:
Dimensions: 20cm x 11,3cm x ?
Weight: ~400g
11 million units were sold.